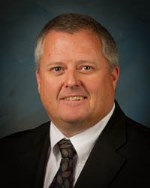 The National Corn Growers Association's Corn Board has elected Chip Bowling of Maryland to become the organization's first vice president for the next fiscal year, which begins Oct. 1.
"I am honored that my colleagues on the board have placed their trust in my ability and dedication to moving our association's mission forward and creating greater opportunities for corn growers across the country," said Bowling. "At the same time, I realize that farmers face many challenges right now as threats to the Renewable Fuel Standard abound and we continue operating without a new, five-year farm bill. I look forward to working with our grower leadership over the coming years to find innovative, impactful ways to deal with the situations at hand and those which will certainly arise in the future."
A farmer for more than three decades, Bowling is a third-generation farmer who operates a 1,400-acre grain farm growing corn, soybean, wheat, barley and grain sorghum only an hour's drive outside of Washington, D.C.
A graduate of NCGA's first Advanced Leadership Academy class, Bowling currently serves as board liaison to the Ethanol Committee and represents NCGA on the U.S. Environmental Protection Agency Farm, Ranch and Rural Communities Committee. He has also served on NCGA's CornPAC Committee and Mycotoxin Task Force.
On Oct. 1, Johnson, of Iowa, becomes chairwoman and the current first vice president, Martin Barbre of Illinois, becomes NCGA president. In October 2014, Barbre becomes chairman and Bowling becomes president.