With all the farm bill activity in Congress this past week, our latest ZimmPoll asked "What's your opinion of committee farm bill?" From the results, most think it's better than nothing.
Our poll results: 18% said Better Than Nothing and Other, 14% said Hits Nutrition Too Hard and Bad For Everyone, nine percent said Senate Better Than House, Bad For Farmers, Will Help Conservation and Great For Everyone, and nobody said House Better Than Senate. Poll results are all over the charts this week with mixed reviews and disagreement with particular sections of the farm bill.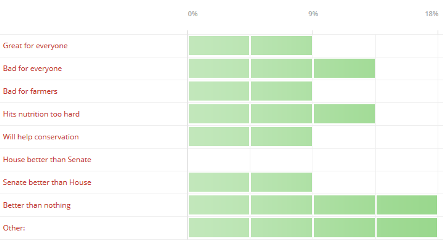 Our new ZimmPoll is now live and asks the question, "Is agriculture doing a bad job of marketing?" Marketing seems to be the key to a successful industry. The public often gets a bad taste for agriculture after "issues" hit the media. Do we cover our tracks and market the good along with the benefits to agriculture, not to mention the must haves of it? Let us know.
ZimmPoll is sponsored by

.