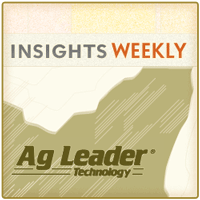 Ag Leader's Machine Guidance Support Supervisor, Jordan Dittmer, wants you to meet their field support techs.
The Machine Guidance Support Group is now up to three field support technicians. They are located in key areas of the US to best support Ag Leader's growing needs in the field.
Seth Schrader is the seasoned veteran of the group located in Northeast Indiana. He has been with Ag Leader in this position just under two and a half years. Seth is a graduate of Purdue University with a bachelor's in Ag Systems Management. He is also involved in their family farming operation where they grow corn and soybeans as well as raise hogs. Before his time with Ag leader he spent 4 years as a Precision Ag Technician. Seth covers the territory of East Central and Northeastern US.
Kerri Birdwell is the second field tech that we hired. She is located in Central California and covers the western seaboard of the US. Kerri graduated from California Polytechnic State University, San Luis Obispo with a degree in Ag Systems Management. After college she worked as an Irrigation Specialist for 2 years until she joined Ag leader in the fall of 2011. Kerri was raised on and continues to have a strong involvement in her family's cattle ranch.
The newest addition to the team is Ryan Mauzey. Ryan has been with Ag Leader since January and is located in Central Missouri. Ryan is a graduate of the University of Missouri with both bachelors and masters degrees in Ag Systems Management with an emphasis in Precision Agriculture. Prior to working with Ag Leader Ryan worked with an Ag Leader dealer for almost 5 years. Ryan's territory is South Central and Southeastern US.
Find out more about Machine Guidance Support on the Ag Leader Blog.
Become a fan of Ag Leader on Facebook today, and get the latest precision ag videos on the YouTube channel. For more information about Ag Leader products and services, or to visit the blog site, go to www.agleader.com.