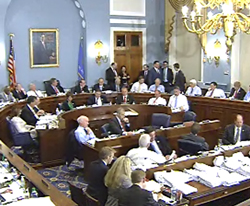 Following on the heels of the Senate Agriculture Committee's action on Tuesday, the House Agriculture Committee passed the Federal Agriculture Reform and Risk Management Act (FARRM) of 2013 by a vote of 36 to 10 Wednesday after more than ten hours of farm bill markup considering 100 amendments.
"This provides a great reason for optimism we will have a new long-term farm bill this year," said American Farm Bureau Federation president Bob Stallman in a statement late last night after the House Ag Committee finally finished its work. "That belief is further supported by the fact that the bills are more striking in their similarities than in their differences."
One of the differences in the two bills is a provision linking conservation compliance to crop insurance premium subsidies, included in the Senate bill but not in the House. Conservation changes in the House bill include the consolidation of 23 conservation programs into 13 and streamlining program delivery to producers, saving more than $6 billion.
The Senate bill is expected to go to the floor next week while the House bill is slated for next month.