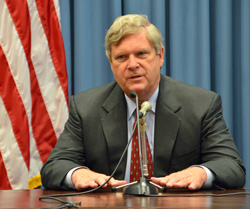 Agriculture Secretary Tom Vilsack supports provisions in the farm bill passed by the Senate Agriculture Committee that ties conservation compliance to crop insurance.
"It's a deal that's made between taxpayers, farmers and insurance companies," said Vilsack. "In many cases, we're paying as taxpayers 50-55-60-63% of the premium. In the past, we also provided a direct payment and as part of the direct payment deal we said in exchange for this check, we're going to expect something in return and that is conservation compliance."
Since it is obvious direct payments are going to be eliminated, Vilsack says it makes sense to tie crop insurance premium subsides to conservation compliance. "If you're going to get the benefit of a premium subsidy that's pretty significant, we'd ask you to put together a plan and be compliant with that plan."
Vilsack spoke to members of the National Association of Farm Broadcasting Tuesday and hit on a variety of issues related to the farm bill.
Listen to Vilsack's comments here: [wpaudio url="http://zimmcomm.biz/nafb/nafb-ww-13-usda-vilsack.mp3″ text="Secretary of Agriculture Vilsack Mtg. with NAFB"]
2013 NAFB Washington Watch Photo Album