We first told you about Monsanto's FieldScripts last fall at Farm Progress Show. Now we will be hearing much more from farmers using it on a trial basis in the field.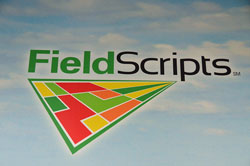 This planting season, more than 150 farmers in Illinois, Indiana, Iowa and Minnesota are trialing the first offering from Monsanto's Integrated Farming SystemsSM (IFS) research platform – FieldScriptsSM. With FieldScripts planted on more than 8,300 acres in Illinois, Ground Breakers® farmers there are impressed with how FieldScripts revolutionizes variable rate planting.
FieldScripts integrates Monsanto's understanding of hybrid performance with the data farmers provide about their individual fields to identify the best hybrids and provide a variable rate planting prescription for each field. The process is led by FieldScripts Certified Dealers, delivered through the FieldView® Plus app on the farmer's iPad®, and executed with precision equipment on the planter.
Ground Breakers farmer Mark Sturtevant in Carroll County, Ill. has planted several fields with FieldScripts and is excited about bringing together Monsanto's knowledge of hybrid performance in multiple yield environments with the latest planter technologies, "If we can harness this technology, we'll be able to increase our yield and profit potential. We're working to put the right seed, at the right amount, on every acre. FieldScripts is a step in the right direction for the industry."
While many farmers own variable rate planters, there has not been a simple and accurate way to utilize them. Traditionally, variable rate seeding has been based on soil type or normalized yield, but these methods fall short of revealing the true picture of what is happening in the field or providing a means to plant accurately using that information.
FieldScripts allows the farmer to accurately plant a lower seeding rate in lower-yielding areas of the field, and a higher seeding rate at higher yielding areas of the field, maximizing the yield potential of every seed. Monsanto research has shown that FieldScripts delivers a 5-10 bushel per acre yield advantage across the field as a whole, as compared with fields not planted with FieldScripts. In 2014, Monsanto plans to launch FieldScripts that will be delivered to farmers through FieldScripts Certified DEKALB® seed dealers.