Our latest ZimmPoll asked the question, "How many generations are you removed from the farm?"
Our poll results: Thirty percent say they are "One Generation, My Parents are Farmers," 23% are Two, My Grandparents Were Farmers, 22% say None, I'm a Farmer, nine percent are not farmers but work in the ag industry, seven percent have No Direct Farm Connection, and three percent say Three, My Great-Grandparents Were Farmers, More Than Three, or Other. It is safe to say that most of our followers are not far removed from the farm, if at all!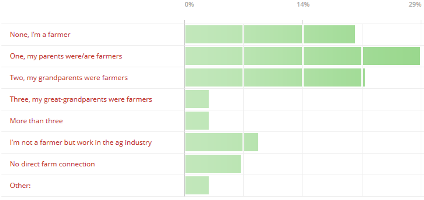 Our new ZimmPoll is now live and asks the question, "Are so-called "ag gag" bills fair?" In the wake of undercover videos at animal agriculture operations that have shown abuse, and especially those that were compiled over a period of time, edited and then released to the public without doing anything to stop the abuse or take it to the proper authorities, several states have passed legislation making that illegal. Most of the laws simply require mandatory reporting of animal cruelty when it happens but opponents have labeled them "ag gag" laws that would suppress efforts to document and publicize animal abuse. Those in favor prefer to call them "See Something, Say Something" bills. Do you feel that the so-called "ag gag" bills are prohibitive? Will these laws hamper efforts to stop animal cruelty? Does this impede our efforts for transparency in the food systems? Let us know.
ZimmPoll is sponsored by

.