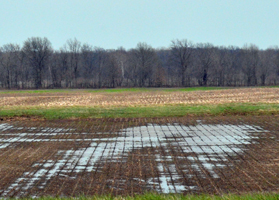 Planting progress continues to be slowed by wet and cold weather in most of the major corn producing states.

According to USDA, just 5% of the U.S. corn crop was planted as of Sunday, only a percentage point of difference compared to the previous week. Last year at this time, nearly half the crop was in the ground and normally at least 30% should be planted by now. All 18 major corn producing states are behind the five year average. The only states even close are North Carolina and Texas. Every state should be showing progress in the double digits, but only six are and five have nothing in the ground yet. Another half dozen have less than 3-4% planted.
Meanwhile, the conditions and slow planting pace are impacting emergence. Just 2% of total U.S. corn has emerged, compared to 14% last year at this time and 6% on average.