Our latest ZimmPoll asked the question, "What is the #1 thing you look for on a food label?"
Our poll results: Nineteen percent said other, sixteen percent said Low Sodium, fourteen percent Don't Read Labels, thirteen percent said Reduced Fat, ten percent said Saturated Fat Content, and we had a tie at nine percent saying Non-GMO and Organic. Three percent said Heart-check Mark, Fat Free, and No Synthetic Hormones and one percent said All Natural. The majority of our viewers chose Other. Based on responses, "other" constituted calories, carbohydrates, and ingredients. Evidently our viewing audience has a different outlook than the audience being interviewed by media about the "big debates" such as antibiotics, hormones, and non-GMO foods.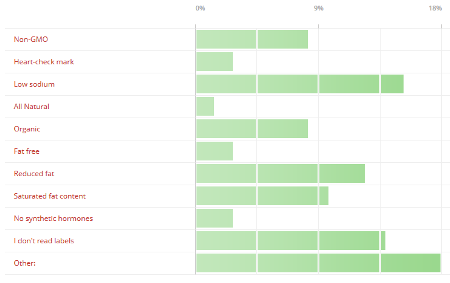 Our new ZimmPoll is now live and asks the question, "Does celebrity media attention sway your purchasing/listening/watching decisions? (e.g. Carrie Underwood supporting HSUS)?" Recently in Tennessee, Carrie Underwood has been a big voice for HSUS by publicly pressuring the Governor to veto a bill that would possibly end undercover investigations of animal abuse in the state. Carrie has used Twitter to its fullest, tweeting "@BillHaslam It's not all about big business. Please look out for the little guys! Show TN that you have a heart…#NoAgGag". She goes on to explain to questioners and agvocates that she is not against agriculture just against animal abuse. Would you not purchase a ticket to a Carrie Underwood concert based on her recent rant? Let us know.
ZimmPoll is sponsored by

.