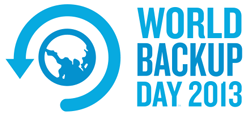 Happy Easter which is falling on World Backup Day. Have you taken the pledge to back up your data?

The World Backup Day Pledge
I solemnly swear to backup my important documents and precious memories on March 31st. I will also tell my friends and family about World Backup Day – friends don't let friends go without a backup.

It is very important that you should not only do this today but very regularly. With all the talk we're hearing about "big data" keep in mind that is only useful if you have it. Catastrophes happen. Don't let it happen to your data. Here at ZimmComm New Media, we are backup fanatics and archive the masters of all our photos, audio and video files.
I get asked about this quite a bit and have been meaning to write about it. World Backup Day reminded me to get it done.
Here's our work flow for backing things up.
1. Local computer backups
Each of our computers has a local backup of all data. For our PC's I have them automatically backup to our shared server. The server is a computer itself that resides on our office network system. We're currently using an HP Home Server unit that has a capacity of about 4TB of data. Each computer is backed up weekly or in the case of a laptop, whenever it is connected to the network after being on a long road trip. The server has built in syncing software which allows us to create custom settings for each machine's backup. You can use other software on your computer to sync straight to an external hard drive. I use a program called SyncBack for this.
For our Macs I use Time Machine, which is part of the Mac OSX operating system. Time Machine backs up to a small local hard drive. I have tried many of them and the most reliable seem to be Seagate external hard drives. I travel with one that holds up to 500GB of data. This small hard drive also serves as a great place to temporarily store photos/audio/video until I archive them which I'll go into later.
Regardless which type of smart phone or tablet you're using today, this local backup can play an important role with them, not just your computer itself. If you're using an iPhone or iPad then make sure you sync with iTunes often to keep your device backed up. I can just about guarantee you'll be glad you did. The same goes with your Android device or whatever you may be using.
2. Cloud computer backups
Besides this local backup we use BackBlaze to back up computer data regardless of being PC or Mac. It is less expensive than other options and very simple to use. Some of those other options include Apple's iCloud, which I use for syncing all my Mac/iPhone/iPad data, Google Cloud Storage, Dropbox, which we use for sharing all kinds of files easily, and of course services like Carbonite. There are lots of choices for cloud backups today. Their benefits include the fact that your data can be available from anywhere, anytime, if you need it.
3. Backups of Backups
So, you've got your computers and mobile devices being backed up. Now you might want to consider backups of your backups. This is something automatically done by website servers so if it's good for them, it's good for you (and your website). All reputable services like Joyent, GoDaddy, etc. have that data backed up and redundantly backed up, meaning there is a backup of that backup. This way you are pretty well assured that if something goes wrong with the server, you won't lose your website.
The same applies to your computer backups. In our case, our office server has built in to it an automatic backup to another hard drive. This means we have 3 different sets of our data. One on the computer or mobile devices, one on the server and another one on the server. In over nine years we've never lost our data or backups!
We also count the cloud backups as an extra inexpensive way to have just one more backup.
Finally, let me touch on our most precious data, our photos/audio/video. We back them all up on to our office server which as I've said is redundantly backed up internally. I then manually back all that data up to an external hard drive which I disconnect from the system and store at another location! How's that for paranoia?
So, bottom line is, Back up. You'll be glad you did.