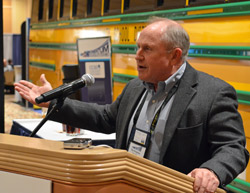 Everyone knows the famous slogan "Nothing Runs Like a Deere" which has been used by the company for decades. But with more John Deere equipment approved for biodiesel, well that slogan needs to be updated a little!
John Deere demonstrated its vast array of diesel equipment able to run on biodiesel during the recent Biodiesel Vehicle Showcase.
In addition to security benefits for Americans, biodiesel also improves lubricity, reduces sulfur emissions, and reduces aromatics. Biodiesel has a high cetane content for faster ignition. These are just a few of the reasons Deere's Don Borgman cites for the company approving the use of up to 20% biodiesel (B20) blends in all its equipment.
According to Borgman, when new equipment is ready to leave the factory, it's filled with a biodiesel blend. Deere has coined this the "biodiesel factory fill."
Learn more about John Deere's Biodiesel Platform by listening to Don Borgman's presentation: [wpaudio url="http://zimmcomm.biz/nbb/nbc-13-showcase-deere-borgman.mp3″ text="Nothing Runs Like a Deere Using Biodiesel"]