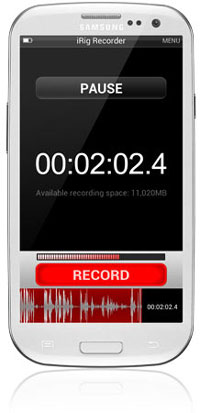 I'm not sure how many of you want or need to have an audio recorder handy when you're out in the field but . . . Maybe you'll want to take some notes so you don't forget something when you're field scouting, planting or harvesting. If so, here's an app for your iOS or Android device you might consider using. It's a simple recording app but it can also be a very powerful audio editing app if you want to get into some podcasting as you agvocate for your business and industry!
It's the iRig Recording app which is now available for both the iOS and Android platforms. I'm not sure it will become my favorite recording app but I'll be giving it a try on my Samsung Galaxy Note II and iPhone 5.
It's a Field Recorder that's always in your pocket.

Mobile recording and editing app
iRig Recorder is a powerful audio recording app for your mobile device that is convenient and easy to use. Now you can have a professional recording tool at your fingertips anytime, anywhere with intuitive and practical editing and export functions. Capture that great sound bite, inspiring speech, entire lecture or first words easily with your mobile device wherever life takes you.

If you're interested in this type of app let me know. I've used a number of them and would be happy to share.