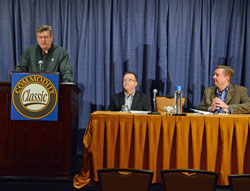 Dupont Pioneer held a news conference at the recent Commodity Classic to introduce a new set of services.
The focus of the press conference was the new Pioneer Field360 services. These new services are meant to help farmers increase productivity and profitability by providing more control of field-by-field data without having to become a technical expert.

The Pioneer Field360 Services include agronomic decision support tools which are ready for this growing season. They include Pioneer Field360 Notes which streamlines and organizes field-by-field agronomic information among the farmer and Dupont Pioneer agronomists and sales professionals. It is mobile access ready by being compatible with iPad, iPhone and Android devices. There's also a Plantability App to scan seed tags to indicate suggested planter settings.
Also coming later this season will be Pioneer Field360 Select which is a mobile subscription service. Like the others this service is mobile device compatible.
Listen to the Dupont Pioneer press conference to learn more here: [wpaudio url="http://zimmcomm.biz/commodity-classic/classic-13-pioneer-presser.mp3″ text="Dupont Pioneer Press Conference"]