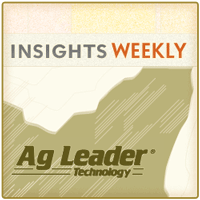 Here is the next in our series as we introduce you to a few of dedicated precision ag equipment dealers in a series called "Getting to Know Ag Leader".
We caught up with Ben Martin of Akron Services, Inc. in Illinois.
1) From an agronomy standpoint, what do you consider to be the biggest issues facing growers today?
Today's investment in seed requires a much higher level of management than many producers have done in the past. Paying attention to hybrids, nutrients, soils and other inputs at different timings and places throughout the field will be key to maximizing productivity and profitability for growers.
2) Tell us about how growers in your area are using precision agriculture.
Producers in our area have found value in VRT fertilizer and lime. Of course, using precision to simplify their life is popular too, such as autosteer, and automatic shut-off on sprayers and planters. However, more and more customers are using precision technology to increase management of nitrogen and seeding rates via harvest data and agronomy knowledge and recording data on every operation.
3) What benefits are growers seeing by using precision ag on their farms? Give us some examples.
Our customers using strip-till systems have seen huge benefits using autosteer to efficiently plant their seed in the optimal condition created by the strip-till operation. Before, when steering by hand, seeds planted off of the seedbed would emerge slower and be at a disadvantage the entire year. Also, growers are seeing benefits in fertilizer usage by using harvest data combined with soil tests to correctly fertilizer the areas that are in need of it the most.

4. What do you believe is on the horizon when it comes to technology and agriculture?
I believe going forward with precision technology there will be an emphasis on precision equipment that isn't geared towards operator efficiency but towards yield enhancement. Products will be developed that look at enhancing agronomy practices that boost yields on every acre of the field.
5. What's your best piece of advice to a grower who might be looking at using precision ag products?
Don't base your GPS investment on lowest cost. As the precision farming world continues to grow and change, make sure your equipment is expandable and flexible – who knows what you are going to want to do tomorrow. Also, you want to pair up with a company/person that is knowledgeable in agronomy and is willing to think outside the box-one you can trust to make recommendations both now and going forth.
Check back next month to "Get to Know" another Ag Leader dealer!
Become a fan of Ag Leader on Facebook today, and get the latest precision ag videos on the YouTube channel. For more information about Ag Leader products and services, or to visit the blog site, go to www.agleader.com.