Sequester is scheduled to take effect on March 1 and so far Congress has made no effort to prevent the across the board spending cuts from taking place. I talked with GROWMARK government affairs director Chuck Spencer to find out more about this monster called Sequester.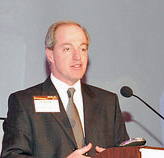 Spencer explains that sequestration traces back to the Budget Control Act of 2011 requiring Congress to come to an agreement on deficit reduction by the end of 2012 – or else there would be cuts to all defense and non-defense spending. "There are exemptions within the provisions, obviously Social Security, veterans affairs, some nutrition programs," he said. "Those cuts for sequestration can range anywhere from 10 percent in some discretionary defense programs to 7.8% for non-defense discretionary programs."
One proposal to avoid sequestration comes from the Democrats who are suggesting taking all the needed cuts – $55 million – from defense and agriculture. The reasoning behind taking half from agriculture is ending direct payments, which is supposed to be done whenever a new farm bill is completed. Spencer says one problem with that is those cuts would take effect immediately, and the current farm bill that was extended through September includes direct payments for this season. "Many farmers have incorporated their management plans for 2013, we're coming up on spring planting season, and a change in that type of program – particularly for crops in the southern part of the country – would be very difficult to deal with," he said.
Listen to my interview with Spencer here: [wpaudio url="http://zimmcomm.biz/growmark/gmk-spencer-sequester.mp3″ text="Chuck Spencer, GROWMARK"]