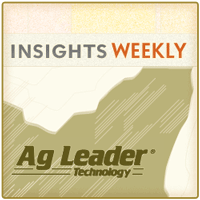 We recently caught up with Adam Walters, Ag Leader software support specialist, at the National Farm Machinery Show and he gave us a quick "tour" of SMS Software, its capabilities and how it helps growers make better management decisions.
Walters also gave us a top-level overview of Intellislope, a new functionality available through the Ag Leader Integra display which provides tile plow control for installing field drainage tile.
[wpaudio url="http://precision.agwired.com/wp-content/uploads/sites/3/2013/02/nfms-13-ag-leader-adam-walters.mp3″ text="Listen to Walters explain"]
And if you're heading out to Commodity Classic in Kissimmee, Fla., Feb. 28 – March 2, be sure to look up Ag Leader experts who will be on hand to talk about the latest in precision technology equipment, enhancements, future products, and much more.
Become a fan of Ag Leader on Facebook today, and get the latest precision ag videos on the YouTube channel. For more information about Ag Leader products and services, or to visit the blog site, go to www.agleader.com.