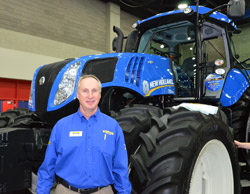 Of course one of the big purposes of the National Farm Machinery Show was to display the latest in farm machinery. Our friends at New Holland were there and proudly showed their latest T8.420 tractor to enthusiastic crowds who couldn't resist climbing up and seeing all the new bells and whistles inside. Gary Wojcik with New Holland went over some of the new features with Chuck.
"This is the new two-wheel drive, high horsepower with front wheel assist tractor," adding that it has the highest horsepower in the industry, also featuring an AutoCommand CVT transmission. Gary said it also has the longest wheelbase in the industry that provides a smooth ride but still turns as sharp as any tractor out there.
Under the hood, Gary said they have a very efficient engine. They've taken the 9-liter Cursor engine and switched it to a common rail, which helps more finely control the injectors. "We're going to produce more power with less fuel."
Finally, crawling into the cab, operators will be impressed with how they can make the steering wheel, console and touch-screen monitor fit them to be the most comfortable.
Look for delivery of this beauty to dealers sometime this fall.
You can listen to Chuck's interview with Gary here: [wpaudio url="http://zimmcomm.biz/nfms/nfms-13-new-holland-t8-wojcik1.mp3″ text="Interview with Gary Wojcik"]
2013 National Farm Machinery Show Photo Album