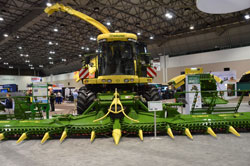 The recent AG CONNECT Expo can certainly be considered a success, especially if you talk to some of the exhibitors who attended.
"We have a group of customers coming into this show, who are coming into here for education, taking part in the 50 educational sessions, and almost every one of them have been booked out," said Rusty Fowler, President/CEO of Krone NA, adding that every customer coming to his booth is a serious buyer looking to see how technology can help the operation. "And that's what this show is all about, and it's working."
And Rusty said they're making to sure to show these buyers Krone's latest technology, including their 1100-horsepower BiG X forage harvester with a 12-row corn head. "This is the top of the line technology in forage harvesters, in fact, the largest one in the world. [You can fill] a 40-foot trailer with corn silage in about three and a half minutes." Plus, it comes with all the newest bells and whistles, including telematics, remote diagnostics and plug-and-play GPS technology compatible with many GPS applications. Throw in some of Krone's newest top-of-the-line balers, and Rusty said they have a whole showcase that fits perfectly with AG CONNECT.
Rusty said they're already looking forward to the next AG CONNECT Expo in 2015. "I told the folks who manage this show that we'll need more space in 2015. It's the best show experience [our potential customers] have ever had."
You can listen to Chuck's interview with Rusty here: [wpaudio url="http://zimmcomm.biz/agconnect/agconnect-13-krone-fowler.mp3″ text="Interview with Rusty Fowler"]