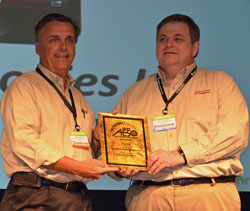 One of the highlights of the recent AG CONNECT Expo are the AE50 Outstanding Innovations Gold Awards, honoring the "best of the best" displayed at the show. One of those awards went to Spectrum Technologies, Inc., for the company's FieldScout GreenIndex+ App. The app looks at a smartphone picture of corn at the knee-high level and can make a recommendation on how much nitrogen should be applied, based on the color of the corn leaf. Mike Thurow, President/CEO of Spectrum, said they're leveraging their knowledge of agriculture.
"Whether it's row crop or biotech or in the areas of weather monitoring or nutrient or pest management or even soil moisture irrigation scheduling … we take that knowledge and develop some simple, affordable solutions to help these people do a better job of growing more consistent, quality crops," he said.
Mike added the information gathered can be integrated into a number of systems and can be emailed back to your account at the office or home. And since there's no stick or USB to pull and physically transfer… or get lost between the field and office… it takes out steps that the folks at Spectrum see as unnecessary.
"The day is already full of activities for a crop consultant, a farmer, and so if you can just make it simpler and streamline that process, then there's a higher likelihood of success in adopting the technology, and more importantly, getting value out of it."
You can listen to Chuck's interview with Mike here: [wpaudio url="http://zimmcomm.biz/agconnect/agconnect-13-spectrum-thurow.mp3″ text="Interview with Mike Thurow"]