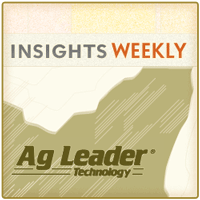 Precision agriculture is growing in popularity each year. And for one Ag Leader customer, Don Batie, keeping up with the latest and challenging himself to increase productivity and efficiency by using precision farming tools has been on his "to do" list for the past five years. Don's farm is located northeast of Lexington, Neb., and consists of irrigated corn, soybean and alfalfa.
Many new technologies can be used that are especially helpful during the planting season. For the 2013 planting season, Don is using Ag Leader's SeedCommand, GeoSteer and DirectCommand.
In a new series, we are catching up with Don pre- and post-planting, and then again this fall pre- and post-harvest. He is sharing his story of his expectations from his precision ag equipment, as well as the results he sees at the end of the growing season.
The reason for Don's change to precision farming was for operator comfort, to improve yields and decrease input costs. "Driving a tractor for 10-12 hours a day would leave me exhausted," Don says. SMS software from Ag Leader is also used to develop seeding and fertilizer rates as well as for data collection. Listen here as Don explains more about why he chose to adopt precision technology on his farm.
[wpaudio url="http://precision.agwired.com/wp-content/uploads/sites/3/2013/02/DonBatie1.mp3″ text="Listen to Batie explain"]
During the off-season, drainage tile is also installed via GPS. Don says that "it is simple to do now with technology. Two people can install 8,000-10,000 feet of tile per day with Intellislope." Ag Leader systems allow for multitasking while in the field. "It enables us to do more than just concentrate on one thing."
New technologies are emerging every day. "People are amazed at how farmers have progressed and changed to maximize their return." And while some folks may believe that farming should go back to what it used to be (meaning horse-drawn plows! can you imagine?) and only organic food should be grown, Don explains his take on "old farming" versus modern farming practices and what that means to you the consumer.
[wpaudio url="http://precision.agwired.com/wp-content/uploads/sites/3/2013/02/DonBatie2.mp3″ text="Listen to Batie explain"]
Every farmer is different and every farm has its priorities. Technology may or may not be one of them but for Don Batie it is. He plans to get out in the field, weather permitting, around mid-April to plant. Check back with our Precision.AgWired.com column in May when we touch base with him to see how things went!
Become a fan of Ag Leader on Facebook today, and get the latest precision ag videos on the YouTube channel. For more information about Ag Leader products and services, or to visit the blog site, go to www.agleader.com.