BASF Crop Protection and John Deere have teamed up to help soybean farmers fight disease with an effective fungicide and a targeted way to apply it.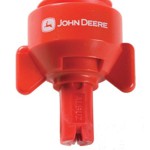 Soybean growers who purchase $300 or more of Priaxor™ fungicide from BASF before March 15, 2013, may qualify to purchase John Deere spray nozzles between April 1 and May 31, 2013 with no payments and no-interest financing for 150 days. (See offer details here)
Priaxor fungicide provides continuous protection against a broad spectrum of plant diseases. More than 75 trials conducted by BASF in 2010 and 2011, in the U.S., reveal that soybean acres treated with Priaxor fungicide out-yielded untreated land 87 percent of the time.
John Deere nozzles offer precision sprayer performance and accuracy. With a variety of specialized sprayers, there is a solution for every grower and every soybean acre, including the Twin-Air nozzle for high-coverage applications with on-target spraying, providing uniform coverage – perfect for low crops with complex canopies.
This enhanced and targeted coverage maximizes applications of Priaxor fungicide by distributing it evenly on soybean leaves. Once applied, Priaxor fungicide continuously delivers its chemistry throughout each leaf. This brings more consistent disease protection and post-infection disease controls, providing Plant Health benefits that can result in greater yields.