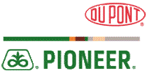 This morning Dupont Pioneer announced a new series of Pioneer brand soybeans – the T Series (pdf). You can learn more about it from comments made by Don Schafer, soybean marketing manager, and Dr. Jessie Alt, research scientist, during a press call. It looks like there will be new product available throughout the soybean growing regions. The new soybean line also included a new product numbering system (pdf) similar to that of Pioneer corn products.

A new series of Pioneer® brand soybean products, developed through the innovative DuPont Pioneer Accelerated Yield Technology (AYT™) process, will bring soybean growers across North America a broad range of high yielding varieties. The new line of soybean products – named the T Series – includes 39 new products and will be introduced in this year.
Signaling an exciting new era in soybean production, the T Series supports soybean growers committed to seeking the right product for the right acre on their soybean fields. Available in seven maturity groups, T Series products represent the largest number of soybean varieties advanced in a single year by Pioneer. The new T Series varieties succeed the popular Pioneer Y Series soybeans introduced several years ago.
"The next generation T Series soybean products provides growers a total package that helps them gain the most from every acre," says Don Schafer, DuPont Pioneer senior marketing manager – soybeans. "A step change from earlier offerings, the T Series is a direct result of the AYT system that allows Pioneer soybean breeders to maximize yield potential, agronomic traits and resistance to yield-robbing pests."

Listen to Don describe this new product launch here: [wpaudio url="http://zimmcomm.biz/pioneer/pioneer-t-soybeans-schafer.mp3″ text="Don Schafer Remarks"]
Listen to Jessie talk about the AYT system here: [wpaudio url="http://zimmcomm.biz/pioneer/pioneer-t-soybeans-alt.mp3″ text="Jessie Alt Remarks"]