Our latest ZimmPoll asked the question, "How do you plan to travel this holiday?"
Our poll results: Fifty-seven percent said car; twenty percent said people are coming to my house; nine percent said I'm boycotting the holidays; six percent said other; three percent said plane, bus and walk; and no one is taking the train. Looks like the roads will be full of travelers this holiday season so be safe as they're talking about the possibility of a white Christmas!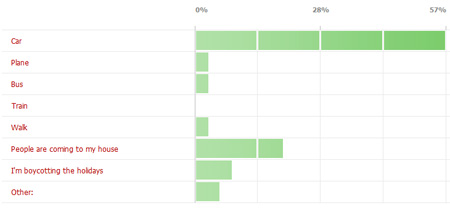 Our new ZimmPoll is now live and asks the question, "What kind of Christmas tree do you have?" If you have family at your house that are similar to mine, they're allergic to real trees so ours is, and has to be, artificial. Let us know!
ZimmPoll is sponsored by Rhea+Kaiser, a full-service advertising/public relations agency.