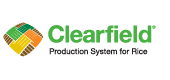 During the 2012 Rice Outlook Conference, BASF Crop Protection and FMC Corporation announced that Command herbicide is now recommended for use in the Clearfield Production System for rice. Command herbicide adds value to growers by controlling tough grasses in rice production, which can rob growers of yield.
Weed management in rice has become more challenging as weed species are developing resistance to existing herbicides.
Command herbicide provides Clearfield growers with a different mode of action to control difficult grasses, such as barnyardgrass, that threaten profits and return on investment.
Barnyardgrass is a competitive weed in Southern rice that poses a major threat to Clearfield growers, especially with the rise in resistant strains. Experts agree that a comprehensive weed management system that includes early weed control and the use of multiple herbicide modes of action are vital to managing resistance concerns.