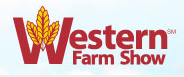 High-horsepower, high-volume competition returns to the 52nd Annual Western Farm Show in 2013 with one of the show's most popular attractions – the Championship Tractor Pull.
More than 150 drivers and machines from 15 states will compete for $64,600 in prize money during the three-day pulling competition, which gets under way at 6 p.m. Thursday through Saturday, Feb. 21-23, at the Kemper Arena in downtown Kansas City.
Featuring past and present champions, the tractor pull is staged by the Outlaw Truck and Tractor Pulling Association of Carthage, Mo., in partnership with the Western Farm Show. Each night will feature different shows with a total of 10 competing truck and tractor classes, including Light Super Stock Tractors, Super Farm Tractors, Modified Tractors, Pro Stock Trucks and Tractors, and the powerful Unlimited Super Stock Tractors.
Fans can meet many of the drivers and see their machines on display from 10 a.m. to 2 p.m. Friday and Saturday, Feb. 22-23, at Kemper Arena. Access to this display is open only to attendees of the Western Farm Show, which will be held Friday through Sunday, Feb. 22-24, 2013, at the American Royal Complex a short walk from Kemper Arena. Tickets to the Western Farm Show and to the tractor pull are sold separately and can be purchased beginning in January.