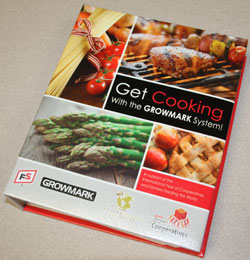 Sales of a GROWMARK system employee cookbook raised $1500 for Farmers Feeding the World..
"We wanted to do something special this year to promote the International Year of Cooperatives and GROWMARK's 85th anniversary," said Karen Jones, GROWMARK's Publications and News Specialist, who explained that they came up with the idea for the cookbook as a way to allow everyone in the system to participate. "We decided it would be really neat if we could sponsor a charity with the proceeds from the cookbook and we decided on Farmers Feeding the World."
There are over 1100 recipes in the cookbook, which was sold for $20 each. Jones says there are no plans at the moment to do a second printing of the sold out cookbook, but the recipes are being made available through social media. "On our FS Pintrest boards, we do have a recipe board and we are posting recipes on there occasionally, so even if you didn't get a chance to buy a book you can still get a few of the best recipes that way," she said. To find those recipes, go to Pinterest.com/FSservices.
Listen to an interview with Karen here: [wpaudio url="http://zimmcomm.biz/growmark/gmk-karen-cookbook.mp3″ text="GROWMARK's Karen Jones"]