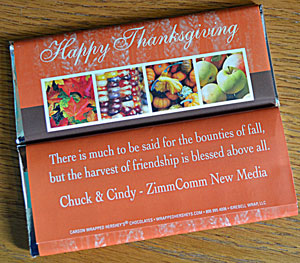 Of the many foods we have to be thankful for in this nation, I'll bet there are lots of people who are thankful every day for the gift of chocolate! Oh yeah!
This is an image of our sweet Thanksgiving greetings sent this year to some of our clients. Hopefully most received them before leaving for the holiday, but if not, it will be waiting for you at your desk on Monday. Some other clients will be receiving a sweet bag of Florida citrus next week. We want you to know how much we appreciate not only your business, but your friendship as well.
We also are very grateful for the hundreds of other business associates and Precision.AgWired.com readers that we count as our friends. Wish we could send everyone a whole bushel of Florida citrus and sweet chocolate to let you know how much we appreciate you! You are all in our prayers of gratitude this holiday and we wish you the sweetest joys of the season!