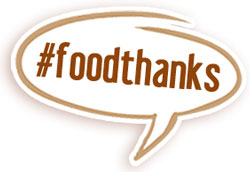 This week marks the third annual AgChat #Foodthanks celebration, a time to reflect on the blessing of all the food choices we have in this nation. Farmers, ranchers, processors, butchers, bakers, chefs, grocers, truckers and more all make it possible for us to have healthy food on plates.
Today and tomorrow in particular, AgChat encourages you to show your #Foodthanks via social media.

Twitter – Join our monthly #FoodChat twitter conversation Tuesday, November 20 from 8:00pm – 10:00pm ET. We will be talking #Foodthanks and of course the upcoming Thanksgiving celebration. Direct message @Foodchat any questions you would like to have included in the conversation.
On Wednesday, November 21st, continue the #Foodthanks conversation. Tweet your favorite recipe, farm blog or tell us why you are giving #Foodthanks. Show the Twitter world your #Foodthanks story.
Facebook – On Tuesday, November 20th, we will be hosting our first ever Facebook Party from 8:00 p.m. -10:00 p.m. ET! Similar to our traditional Twitter conversations, we will be engaging in a conversation that focuses on #Foodthanks. Make sure to join the community and show your #Foodthanks.
On Wednesday, November 21st, we will be asking you to share with us your #Foodthanks story. Share your pictures, blog posts and thoughts on your own personal #Foodthanks.
Pinterest – Join us now as we are pinning our #Foodthanks. Follow our #Foodthanks board and we will ask you to join our community and pin your #Foodthanks. Do you have a favorite food blog? How about grandma's secret pumpkin pie recipe? Pin a picture showing how your family farm makes #Foodthanks possible. Join us on Pinterest now.
What makes you give #Foodthanks?