Our latest ZimmPoll asked the question, "How do the election results make you feel?"
Our poll results: Thirty-two percent said disgusted; twenty-six percent said happy; fifteen percent said afraid; nine percent said sad; seven percent said mad; five percent said depressed/suicidal and four percent said apathetic. So, it looks like there were a wide range of emotions as the votes were being tallied but an almost 50/50 were disgusted while the others were happy. Pretty even with how the election turned out!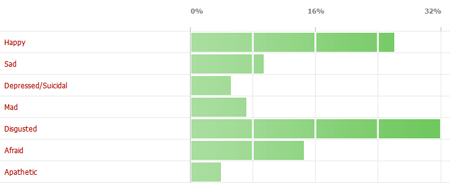 Our new ZimmPoll is now live and asks the question, " What's your favorite Thanksgiving food?" Turkey will most likely bless the tables of many, but does your family have a special Thanksgiving food that just makes your taste buds dance? Let us know!
ZimmPoll is sponsored by Rhea+Kaiser, a full-service advertising/public relations agency.