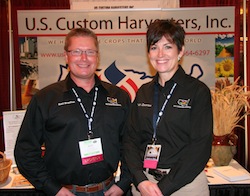 U.S. Custom Harvesters, like many other agricultural organizations, represented themselves well at the recent National Association of Farm Broadcasting's Trade Talk. Tracy Zeorian, President, and Kent Braathen, Vice President of U.S. Custom Harvesters, shared the history of the organization and how they are providing a voice for custom harvesters across the country.
"Our organization is comprised of all custom harvesters: combines, silage choppers and cotton pickers. We were formed in 1983. Prior to that we really had no voice for our industry. Our industry began basically during WWII's Harvest Bargade. It was time for somebody to start something and have a voice for custom harvesters."

"We've got an issue we really want to try and get changed with our fuel tanks. We have worked on this for almost 22 years and that is our #1 issue we would like to push forward and try and get changed. We are only able to haul up to 119 gallons of diesel fuel with our class A CDL. We are trying to get it up to 1,000 gallons."
The mission for this growing organization is to advance the cause of the members of the corporation by representing and promoting the harvesting industry; to positively influence government and regulatory agencies; to enhance the relationship between custom harvesters, their clients, and service providers to the industry and the general public; to manage the changing lanscape within the industry while enhancing the profitability of custom harvesters and their customers.
U.S. Custom Harvesters cover northern Texas in early May, then head to south central Kansas, eastern Colorado, central South Dakota and northern North Dakota. Then it is time to head south again for the fall crop harvest.
Listen to my interview with Tracy & Kent here: [wpaudio url="http://agwired.com/wp-content/uploads/2012/11/nafb-12-us-custom-harvesters-zeorian-braathen.mp3″ text="Interview with US Custom Harvesters"]
2012 NAFB Convention Photo Album