When it comes to your business, are you a Master or a Maverick – or maybe a little of both, like Kip Tom of Indiana who is one of the AG CONNECT Masters & Mavericks.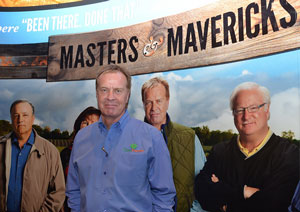 As a Master, Kip values the tried-and-true methods that have brought high-yield harvests, but as a Maverick, he seeks opportunities for calculated entrepreneurial risk-taking that could provide even greater results. It's an approach that keeps him on the cutting edge of innovation as he farms 16,000 combined acres in Indiana and Argentina.
Kip says farmers like him will benefit from attending the third AG CONNECT Expo and Summit, coming up January 29-31 in Kansas City. "Farmers evolve in the way they source information, they make decisions based upon that information," Kip says. "When I go to a show, I want to be able to look at the product that company is making or that service they're providing and I want to connect with the engineer that designed it, I want to connect with someone in the marketing/supply chain, so we can make decisions."

Kip says what makes AG CONNECT different is that there are more real farmers looking for real ideas to use on their operations at home. "It gives you a great opportunity to peer network with these people, along with the 50 some educational programs going on at AG CONNECT," said Kip, noting the programs cover a wide range of topics with something for everyone.
Started as a complement to the Agritechnica show held every two years in Germany, AG CONNECT attracts a large number of producers from other countries. "You come to this event and you're going to be rubbing shoulders with producers from Argentina, Brazil, across Europe, part of Asia and Australia," Kip said. "What that does is drive participating companies like John Deere, Agco, CNH, to really bring out the best of the best of their talent."
If you are a Master and/or a Maverick in your agriculture-related field, AG CONNECT invites you to not only attend the Expo, but also to share your ideas and experiences with others in an on-line conversation. To join Masters & Mavericks, just visit the show website at www.agconnect.com and follow the link to answer a few questions and upload a photo. Even better, a brief personal video talking about issues facing today's agriculture is highly encouraged. Everyone who joins Masters & Mavericks will receive their own web page, an AG CONNECT gift and complimentary registration for AG CONNECT 2013.
Listen to my interview with Kip from NAFB Trade Talk: [wpaudio url="http://zimmcomm.biz/nafb/nafb12-agconnect-kip.mp3″ text="Kip Tom on AG CONNECT"]
2012 NAFB Convention Photo Album