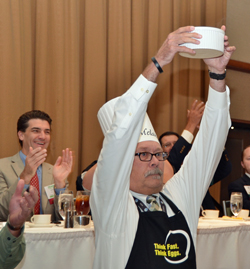 Teamwork and precision helped a group of NAFB members chosen at random during last week's convention in Kansas City to mix up an egg souffle to the tune of the William Tell Overture.
Missouri's "Egg Lady", Jo Manhart, orchestrated the egg souffle making demonstration by assigning four NAFB members separate jobs to get an egg souffle in the oven before the end of the William Tell Overture. The last time a team doing this demonstration made it by the end of the 3:40 piece of music was at an FFA meeting in 1989. NAFB got them beat!
Conducting the music was NAFB President Tom Steever, Brownfield Ag News and the souffle sous chefs were Bart Johnson (Ohio Ag Net), Greg Akagi (WIBW Radio/Kansas Agriculture Network), Mike LaPorte (KRVN-Lexington, NE), and Dave Russell (Brownfield Ag News). The broadcasters were egg-cited to wear different hats for a change and did an egg-cellent job.
Watch and see them "break an egg" to the music!
2012 NAFB Convention Photo Album