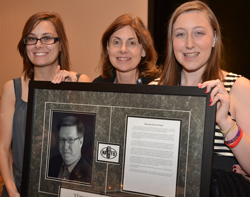 Well known and loved agricultural reporters were honored this week at the National Association of Farm Broadcasting annual meeting with induction into the organization's Hall of Fame. Both broadcasters honored this year are exceptional for their coverage of crops outside of the traditional corn and soybean sector.
NAFB first paid tribute to a past president who passed away unexpectedly earlier this year. Stewart Doan was well known for his coverage of southern agriculture, based in Arkansas through much of his career. He was especially interested in the policy side and covered agricultural issues in Washington DC for Agri-Pulse. Stewart's wife Leslie and two daughters Lauren and Sarah were on hand to see the industry pay tribute to this great husband, father and industry professional.
The second NAFB Hall of Fame honor went to veteran broadcaster George Gatley of Western Agri-Radio Networks, who started his career in 1958. Gatley covers crops and livestock in California and Western Arizona on 20 radio stations. He also produced Farm and Ranch Television Programs for over 20 years, as well as writing farm articles for a bi-monthly farm magazine.
The NAFB Hall of Fame was created in 1986 to honor individuals who have made significant contributions to the farm broadcast industry and has inducted 36 members, both living and deceased, since that time.
2012 NAFB Convention Photo Album