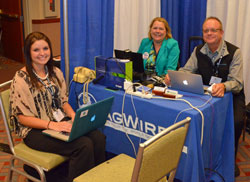 Here's the ZimmComm team (Jamie, Cindy and me) collecting all our photos and interviews from the Trade Talk session at the National Association of Farm Broadcasting Convention. We've got lots. Photos are being updated in the photo album right now. Interviews will be showing up for days and days!
Precision ag is a subject that's becoming more and more a part of any company's discussion and products. So expect some interesting interviews here as we get them edited.
Thank you to Hugh Whaley, Photographer, USFRA, for taking our photo.
2012 NAFB Convention Photo Album