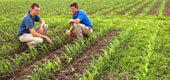 Results from more than 300 soybean field trials conducted in 2011 and 2012 show soybean growers there's hope for control of resistant weeds. Engenia herbicide, a technologically advanced dicamba formulation developed by BASF, demonstrated effective control of key broadleaf weeds including glyphosate resistant Palmer amaranth, waterhemp, marestail, and common and giant ragweed.
BASF anticipates the commercial launch of Engenia herbicide in the U.S. in 2014, in a complimentary time frame with the commercialization of dicamba-tolerant soybeans. BASF expects Engenia herbicide use on cotton in 2015 following the commercialization of dicamba-tolerant cotton.
Once registered, growers will be able to use Engenia herbicide as part of the dicamba-tolerant cropping system, currently in development, to protect yield potential and manage increasingly complex weed challenges.