The 2012 Farm Progress Show was a chance for AgVantage FS to put the spotlight on a fresh new look for FS Seed products HiSOY and InVISION corn.
FS seed marketing and development specialist Amanda Weigel told us during FPS that AgVantage FS just expanded into the Boone county area this year. "So I'm doing some marketing to get our name out here in the Boone county area … letting people in the area know what's going on with FS and GROWMARK." AgVantage FS is a full-service agriculture and energy supplier headquartered in Waverly with locations in 30 surrounding Iowa counties.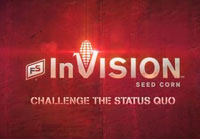 Amanda says they were highlighting the FS HiSOY® brand of soybeans and the new FS InVISION brand of seed corn. "Growers need to know that HiSOY and InVISION are brands that are locally grown, you get local recommendations, and the trials are done locally," she said. A focus on local results led to a selection of hybrids best suited for wherever a farmer may choose to plant.
Amanda suggests that growers contact their local FS representative to find out more – and check out and like them on the FS Facebook page!
Listen to Chuck's interview with Amanda from FPS here: [wpaudio url="http://zimmcomm.biz/farm-progress/fps12-fs-amanda.mp3″ text="Amanda Weigel with FS AgVantage"]
2012 Farm Progress Show Photo Album
Precision.AgWired.com coverage of the 2012 Farm Progress Show is sponsored by John Deere and AgLeader