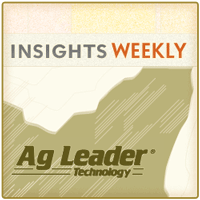 Ag Leader Technology's Hydraulic Down Force/SeedCommand was on display this week at the Farm Progress Show. We teased it earlier this week but now you can see how it works. Once again Will Cannon, Ag Leader Technology product specialist, was right there when we visited the booth in Boone, IA.

Planter down force monitor and control capability is now integrated into the Ag Leader Technology INTEGRA™ display. It allows display to monitor and adjust down force based on field and soil conditions. Planting seed at the optimum row unit down force is an important factor in good crop germination, and ultimately, yield.
Control all of your planting operations, from Advanced Seed Monitoring to variable rate planting and clutch control with SeedCommand.


Become a fan of Ag Leader on Facebook today, and get the latest precision ag videos on the YouTube channel. For more information about Ag Leader products and services, or to visit the blog site, go to www.agleader.com.