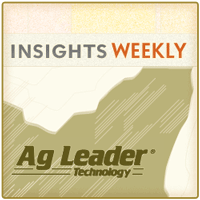 SeedCommand from Ag Leader helps growers manage all of their planting operations, including seed population, planter performance, hybrid/variety mapping, split planting and variable rates. This helps change and adapt to field situations instantaneously when airbags take several seconds to make an adjustment. This equates to improved planting because seed will be in the ground at exactly the right place at the right time, since field conditions can vary even just several feet down the line. And seconds can really count.
Will Cannon, Ag Leader product specialist for SeedCommand, says it's evolved from its beginnings in 2006, and the Hydraulic Down Force technology helps growers measure or monitor how much load is on the gauge wheels of the planter. Listen to more about Down Force and why this technology is important.
Listen to my interview with Will here: [wpaudio url="http://zimmcomm.biz/agleader/ag-leader-7-12-cannon.mp3″ text="Interview with Will Cannon"]
Be sure to stop in and visit with an Ag Leader specialist about Hydraulic Down Force/SeedCommand at the Farm Progress Show, August 28-30, at Booth #517.
You can listen to additional interviews with Cannon here.
Become a fan of Ag Leader on Facebook today, and get the latest precision ag videos on the YouTube channel. For more information about Ag Leader products and services, or to visit the blog site, go to www.agleader.com.