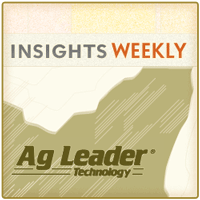 In the middle of the day, during one of the hottest summers on record, 170 farmers gathered under a tent to learn. What could be worth the braving Mother Nature? Ag Leader OptRx™, of course!
OptRx crop sensors, used in conjunction with the INTEGRA™ display, measure and record data about crops in real-time using the reflectance of light shined on the growing plants. The data is logged and mapped to be used in further analysis, or for real-time variable rate applications.
Sunrise Coop held two OptRx answer plots – July 12 in Bowling Green, Ohio, and the next day in Attica, Ohio. The event included a presentation and demonstration of OptRx as well as an INTEGRA display connected to two OptRx sensors. The display was projected onto a flat screen TV that showed the Vegetation Index (VI) bar graph comparing dry grass to large, healthy corn plants. The demonstration also showed how the target rate of Nitrogen changed as the VI changed.
The crowd was engaged by this new technology, and rightfully so. OptRx can save them money in the field by eliminating the risk of over applying that can occur with blanket application. On the other hand, it can produce an average of $25/acre increase due to yield boosts caused by using the ideal application rate.
Click here for more information about Ag Leader's OptRx Crop Sensors.
Become a fan of Ag Leader on Facebook today, and get the latest precision ag videos on the YouTube channel. For more information about Ag Leader products and services, or to visit the blog site, go to www.agleader.com.