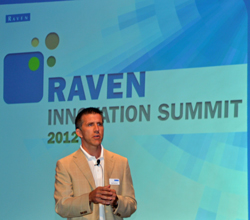 The purpose of Raven Industries is "to solve great challenges" and the company has been doing that now since 1956 in several different areas, including precision agriculture.
Matt Burkhart, Raven's Applied Technology Division Vice President, welcomed over 200 of the company's industry partners from all over the world Tuesday to the Raven Innovation Summit in Sioux Falls, SD. "We believe innovation is invention plus value," said Matt. "What we're trying to do is constantly achieve a true, value-added solution to the end user."
When it comes to precision agriculture, Matt says they are passionate about helping farmers feed the world by being more productive and they keep innovating. "It's really evolving beyond just the products," he said. "We're really inventing a precision ag business platform."
You might be surprised to learn that Raven Industries is actually made up of three very different divisions, with the Applied Technology, or precision agriculture, division being the newest started in 1978. The company started with a couple of engineers designing hot air balloons – what is now called Aerostar – and the third division makes flexible films and sheeting for custom applications in energy, industrial, environmental, construction and agricultural markets.
Watch a bit of Matt's opening remarks at the summit below and learn more about the company.