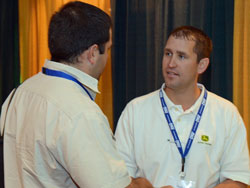 Just when you thought you had everyone's picture ID in your smart phone, you find out you'll need to add one of your favorite tractor. During the International Conference on Precision Agriculture, Chuck talked with Aaron Bartholomay with John Deere's Intelligent Solutions Group, about how technologies are making it possible for connectivity between farmers and their equipment through MyJohnDeere.com.
"We see this technology advancing and the demand in the agriculture industry to have that connectivity to the machines and their employees out there to make sure that everybody knows and is working in synch with what they want from the master plan," Bartholomay said. "My John Deere has the capability of logging in through a smart phone or mobile device so customers can use their mobile phone and log in to that My John Deere website and connect to their tractor out there."
Bartholomay added that customers can see a wide variety of information from several different John Deere products through the one website. Check it out!
Listen to Chuck's interview with Aaron here: [wpaudio url="http://zimmcomm.biz/icpa/icpa-12-bartholomay.mp3″ text="Interview with Aaron Bartholomay, John Deere Intelligent Solutions Group"]
11th International Conference on Precision Agriculture Photo Album
Precision.AgWired.com coverage of the International Conference on Precision Agriculture is sponsored by John Deere