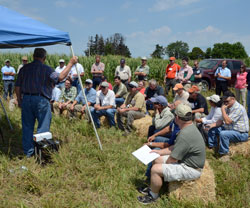 If there's anything positive about the drought this year (and I realize that's a real stretch) it might be what producers and companies are learning from these extreme circumstances. In addition, events, such as the Indian Creek Watershed Project Field Tour, fittingly set when conservation is a hot topic of discussion gives even more opportunities to discuss how to overcome these real challenges. Chuck caught up with Dave Gustafson, who serves on Monsanto's sustainable agriculture team and is a board member of the Conservation Technology Information Center (CTIC), one of the organizers of the tour. He pointed out how what he does at Monsanto really goes hand-in-glove with what the CTIC is trying to accomplish.
"One of the things I've really been impressed by is the way CTIC is able to get information to growers in a way that actually helps influence their adoption of conservation practices. So Monsanto sees CTIC as playing an extremely valuable role in helping to encourage the greater adoption of conservation practices that really benefits everyone… and not just in agriculture but society in general," he said.
Gustafson said he's also learning more about nitrogen management and the adoption of cover crops, a new interest for Monsanto. He said he's hearing from farmers that cover crops can help with water penetration into the soil, especially important in the drought-stricken Midwest this year.
Listen to Chuck's interview with Dave here: [wpaudio url="http://zimmcomm.biz/ctic/dave-gustafson-monsanto.mp3″ text="Interview with Dave Gustafson, Monsanto"]