Our latest ZimmPoll asked the question, "Do you prefer corn sugar to high fructose corn syrup?" In what is a first for our poll, the response was split evenly! See the chart below.
Recently the FDA denied a request from the Corn Refiners Association to allow food labels to use the term corn sugar instead of high fructose corn syrup. Nutritionally, there is no difference in regular table sugar and HFCS so I don't see why FDA ruled like they did. Their reasoning had to do with their definition of sugar as a crystalline solid. This is basically a public relations war over words since the "problem" with either cane or corn sugar is how much someone consumes. Nothing wrong with cane sugar or corn sugar, regardless what you call it, in my opinion. I like them both. Apparently consumers like HFCS better according to this story. What do you think?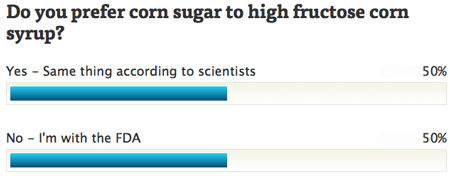 Our new ZimmPoll is now live and asks the question, "Does your business have an interest in Pinterest?" This online pinboard is now being used by political campaigns to target key demographics. Even President Obama's wife is using it! Seems like there might be some good reason for agribusinesses, farm and food groups to start pinning away. What do you think?
ZimmPoll is sponsored by Rhea+Kaiser, a full-service advertising/public relations agency.