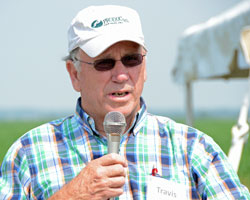 Last week I attended the 2012 Conservation in Action Tour courtesy of AGROTAIN. I'm going to share some of my stories here like this one with one of the speakers on the annual tour.
Travis Satterfield grows mainly rice and soybeans in Mississippi. He has also served as Chair of Delta F.A.R.M. and is a member of the Mississippi Delta Sustainable Water Resources Task Force. I visited with him during the 2012 Conservation in Action Tour.
He got involved in the tour because of his concern about the availability and quality of water and the need to be a good steward of the land. Travis is a great example of a farmer who cares about his land. He has sons that he wants to be able to turn the farm over to and therefore he believes it's important to practice good conservation so it will be there for them. I asked him about the task force he is a member of. He says it was formed to bring together all the organizations involved in Delta region conservation to address actionable approaches to solving water problems. One of those approaches he's using on his farm is land forming.
Listen to my interview with Travis here: [wpaudio url="http://zimmcomm.biz/ctic/ctic-tour-12-satterfield.mp3″ text="Travis Satterfield Interview"]