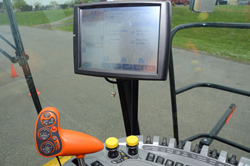 One of the slick features that New Holland includes on their latest line of CR combines is the IntelliView IV color touchscreen display that monitors all combine functions and allows you to see a wide variety of performance information at a glance from up to three camera inputs, with direct USB connectivity for data collection.
Agricultural journalists had the opportunity to learn more about New Holland combines and other equipment at a media event last week in the company's home town of New Holland, PA.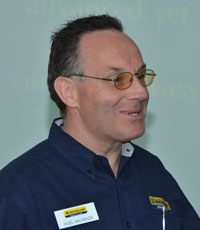 You may not realize it, but New Holland is kind of a big deal in combines. "New Holland was the first company to launch a rotary combine in the market," Combine Market Manager Nigel Mackenzie told us. "That was back in 1975 with the TR70. That combine was built and designed in Nebraska and the latest evolution, the CR models, are still built there."
The CR Combine was actually voted "Machine of the Year" last year at Agritechnica. "A lot of new features introduced on the model year 12 machines, primarily driven by greater fuel efficiency and emissions regulations," Nigel says. "It was really great to be recognized by a group of journalists in Agritechnica for what we've done."
Nigel says New Holland has six rotary combine models and three conventional models – he tells us all about it in this interview – [wpaudio url="http://zimmcomm.biz/new-holland/new-holland-nigel.mp3″ text="Nigel Mackenzie Interview"]
Watch New Holland's John Elliott give a short overview of their combine offerings with a CR8080 as a backdrop.