Several farm organizations provided input last week on USDA conservation programs in the 2012 Farm Bill.
Among those who testified before the House Committee on Agriculture's Subcommittee on Conservation, Energy and Forestry was National Corn Growers Association (NCGA) President Garry Niemeyer of Illinois who spoke on behalf of a broad coalition of agricultural organizations, including the American Soybean Association, the American Farm Bureau Federation, the National Association of Wheat Growers, the National Cotton Council, the National Farmers Union and the USA Rice Federation, all of which chose to directly support NCGA's testimony.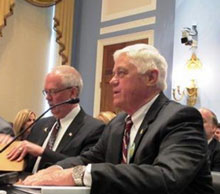 "Our organizations have expressed support for the Title II framework in the 2012 Farm Bill that the Senate and House Agriculture Committees began developing last fall, which consolidates 23 conservation programs into 13 while maintaining the same tools that were available to farmers in the past," Niemeyer, a farmer from Auburn, Illinois, explained in his testimony. "Our growers are seeking simplification, flexibility, and consolidation in these programs, and we believe these goals are achieved in the Senate Agriculture Committee's recent draft language."
Niemeyer directly called for the continuation of popular, effective stewardship programs including the Environmental Quality Incentive Program and the Conservation Stewardship Program, noting that working lands programs play an essential role in meeting environmental goals and avoiding regulation. To achieve cost savings, Niemeyer also mentioned that farm groups are supportive of gradually reducing the Conservation Reserve Program cap from 32 million acres to 25 million acres while encouraging the most environmentally sensitive land to remain enrolled in the program.
"Farmers are exceptional stewards of the environment because our livelihoods depend on preserving land and water resources. We are committed to leaving our environment in better shape than we found it so resources can be passed on to the next generation to farm," Niemeyer said. "Most producers throughout America view protecting agricultural land as more than a worthwhile goal. It is a lifelong commitment. Voluntary conservation programs developed over the past 30 years help farmers and ranchers play a major role in improving our environment while also expanding their sources of income and keeping them on the land. We hope this committee will choose to continue to invest in these programs through a robust and efficient conservation title in the new farm bill."