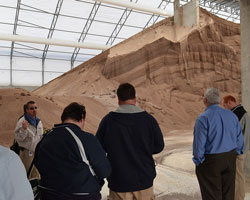 The new GROWMARK dry and liquid plant food storage facility in Casey, Illinois is in business to serve farmers in the south central part of the state this spring.
"It is a 25,000 ton dry fertilizer blend facility and a 10,000 ton solution facility and this is the first spring we are using it," said South Central FS CEO Randy Handel of the new facility which just opened at the end of February and is located on the same site as Total Grain Marketing (TGM). The fertilizer facility also benefits from being right on the rail line. "It's a very good location being on the CSX track and it's good sharing the resources with our grain elevator and it's a very strategic location."
Listen to my interview with Randy Handel here: [wpaudio url="http://zimmcomm.biz/growmark/gmk-2012-handel.mp3″ text="South Central FS CEO Randy Handel"]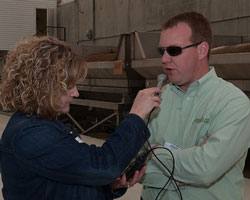 GROWMARK Southern Region Manager Brian Koenig says the liquid fertilizer terminal is fully automated and features around-the-clock load out capabilities. "It's very efficient. We don't need a lot of manpower here to operate the facility. It's very technically driven," he said during a recent GROWMARK media day tour.
Koenig says the new facility is very beneficial for FS member co-ops in the region. "It really helps Illini and South Central the most." he said. "They're able to retail right out of here. It's a really key facility for them." The facility's location on the CSX rail line allows for nitrogen solution to be sourced from a number of points on the U.S. East Coast.
Koenig is pictured here during the media day doing an interview with Rita Frazer with RFD Radio Network.
Listen to my interview with Brian Koenig here: [wpaudio url="http://zimmcomm.biz/growmark/gmk-2012-koenig.mp3″ text="GROWMARK's Brian Koenig"]