The annual commemoration of the importance of agriculture is traditionally celebrated on the first day of spring to recognize the start of planting season, but the event in the nation's capitol is held a little earlier in the month when Congress is in session so lawmakers can attend. This year the date was March 8 and the day in DC was packed full of activities, supported by agricultural organizations and attended by many.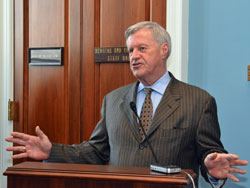 Among those who attended was Congressman Collin Peterson (D-MN), Ranking Member of the House Agriculture Committee. During brief remarks, the Congressman talked about his desire to do what he can to support the effort to communicate the importance of agriculture to the general public and those who implement policies in the nation's capitol. "People think that they know better than farmers how to do things. Most of them have no clue what they're doing," he said.
He says the farm bill process will begin in earnest over the next few weeks. "Our goal is to try and get this done by May or early June. It will not be easy, given the climate around here." the congressman said. "We're determined to work together and try to do what's best for agriculture and for America." He added that agriculture is "the only part of the economy is working."
Listen to remarks from Congressman Peterson here: [wpaudio url="http://zimmcomm.biz/agday/ag-day-12-peterson-1.mp3″ text="Remarks from Congressman Collin Peterson"]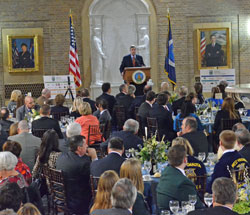 U.S. Secretary of Agriculture Tom Vilsack addressed the Celebration of Agriculture Dinner for National Agriculture Day activities.
The secretary talked about the establishment of USDA by President Lincoln 150 years ago, noting that it had two major missions at the time – collection of information about crops and research. "The president established it as "the people's department" and the idea was that this would be a forward-thinking, futuristic department, constantly looking for ways that we could be stronger agriculturally," he said. "I wish President Lincoln and those that were in Congress could come back now and see what they created – see the extraordinary story of American agriculture."
Listen to remarks from Secretary Vilsack here: [wpaudio url="http://zimmcomm.biz/agday/ag-day-12-vilsack-2.mp3″ text="Remarks from Secretary Vilsack"]
2012 National Agriculture Day Activities Photo Album
Coverage of the 2012 National AgDay Activities is sponsored by the American Seed Trade Association