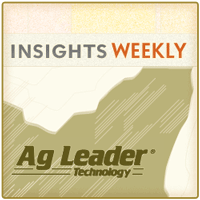 Ag Leader Technology announces the launch of Insights magazine, a new precision farming publication produced by the Ag Leader team. The debut issue of the quar¬terly magazine reached a circulation of more than 20,000 readers this month, primarily targeting growers and precision farming industry professionals who are looking to get more out of their precision farming tools and to learn about the latest technologies.
Lori Costello, Ag Leader Marketing Communications Manager, says the transition to using precision agriculture can take time. Online articles are very time-sensitive and may expire, but the magazine provides information in a way that can be accessed at the grower's convenience. [wpaudio url="http://precision.agwired.com/wp-content/uploads/sites/3/2012/02/Costello1a.mp3″ text="Listen to Costello explain"]
Content of the magazine includes wisdom from renowned agronomists, showcasing how precision farm¬ing technology can and will be used to overcome new challenges caused by changing weather patterns and growing conditions. Profiles of growers explore the innovative ways precision farming technology is being used around the country to reduce waste, increase yields and bolster profits. Additional content takes readers behind the scenes of Ag Leader, where they will learn how to get more value from Ag Leader products and learn about the benefits and features of new precision farming tools coming soon.
Costello says the magazine contains more than just Ag Leader product announcements – it is a tool to help growers understand how precision ag fits into their business model. [wpaudio url="http://precision.agwired.com/wp-content/uploads/sites/3/2012/02/Costello1b.mp3″ text="Listen to Costello explain"]
Those interested in signing up for a free subscription to Insights magazine are encouraged to visit: www.agleader.com/subscription. The Ag Leader team will be on the constant lookout for interesting story angles, profile subjects and precision farming information, so please email your story tips to Info@agleader.com, subject line: Insights Tip.
Become a fan of Ag Leader on Facebook today, and get the latest precision ag videos on the YouTube channel. For more information about Ag Leader products and services, or to visit the blog site, go to www.agleader.com.