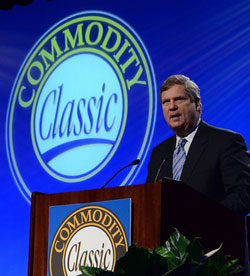 Before heading back to Washington for a White House conservation conference last Friday, Agriculture Secretary Tom Vilsack was in Nashville speaking to corn, soybean, wheat and sorghum farmers and announcing the opportunity for them to enroll a total of 1 million acres of land in a new Conservation Reserve Program (CRP) initiative to preserve grasslands and wetlands.
"By focusing 1 million acres of CRP on grasslands and wetlands, this initiative will have enormous benefits for farmers, sportsmen, and all Americans," said Vilsack. "CRP is one of our nation's most valuable and vital conservation efforts, ensuring cleaner air and water, preventing soil erosion, and enhancing economic opportunity in rural America by supporting recreation and tourism. With high crop prices, this approach to target our most sensitive lands is essential if we want to maintain the substantial benefits of CRP while ensuring that productive farm lands continue to produce the food and fiber Americans and the world needs."
Vilsack highlighted the announcement later in the days at the Interior Department during the White House Growing America's Outdoor Heritage and Economy conference, which emphasized the link between conservation and strong local economies through tourism, outdoor recreation, and healthy lands, waters and wildlife.
The secretary discussed a variety of issues during his address at the 2012 Commodity Classic, including some tough talk for lawmakers on getting a new Farm Bill done. "As Congress works on this farm bill, the country needs them to have the political courage and spine to work on immigration reform and get that done and get it done now," Vilsack said, noting that even if Congress thinks it's a tough time to do it, "that's not what America does. We don't make excuses, we solve problems and we expect our leaders to do that."
Listen to or download Visack's address here: [wpaudio url="http://zimmcomm.biz/commodity-classic/cc12-vilsack.mp3″ text="Secretary Tom Vilsack at Commodity Classic"]
2012 Commodity Classic Photo Album
Coverage of the 2012 Commodity Classic Show is sponsored by John Deere